It's always a pleasure to receive interesting case studies from our users. Today we will take a look at usage scenario sent to us by Yoo-Sung Kim, Professor in Knowledge Management System Lab of Inha University.

Yoo-Sung Kim works as a Professor in Knowledge Management System Lab of Inha University. Knowledge Management System Lab mainly does research on new software technologies and develop new software systems especially based on knowledge mining from big data.
Industry: BioAPI CTS development.
Place of work: https://www.inha.ac.kr/kr/index.do
Alex Taylor: What challenges made you search for the software of this kind?
Yoo-Sung Kim: To develop a web-based BioAPI conformance test system (CTS) which check whether biometric devices follows the required international standards or not, we need to way for connecting remote biometric devices of client computer from the server. From a request of a national institute, we are urgently developing the system. We should have a demonstration at the beginning of this November. To develop the system in very short time we need your product which makes connections from the CTS server to remote devices.
Alex Taylor: How did you get to know about USB over Ethernet by Electronic Team, Inc?
Yoo-Sung Kim: From web surfing, we found the information about your product. We also develop a test module to make sure that your product can fit well to our design architecture of the web-based BioAPI CTS.
Alex Taylor: Did you try other products for the same task before choosing Electronic Team, Inc. solution? Why did you prefer our product?
Yoo-Sung Kim: In fact, we are considering other products in parallel. However, some of them are not suitable for our research project due to the cost and, for some others, we have little bit difficult to get API information. However, you showed an enthusiastic attitude to discuss and to give the information to us. Thanks to your aggressive attitude, we can check the possibility whether we can use your product for this project. I think this kind and active attitude is very helpful to resolve some unexpected problems quickly which we may come across during developing our prototype system.
Alex Taylor: Please, describe how you are using our product now.
Yoo-Sung Kim: We are developing a web-based BioAPI CTS which is able to check whether the remote biometric devices connected to the test server by your product follow the related international standards such as ISO/IEC 24709 etc. or not. Because we should prepare a demonstration in International Conference, Asian Biometrics Consortium 2012, we design the system architecture of it as following.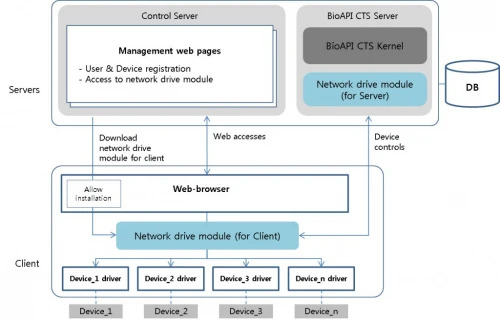 As you can see in the above figure, your product will be used for connecting remote biometric devices at client computer to the CTS server. Then CTS server checks whether the device complies with the international standards or not. After developing the prototype system, we will have a demonstration to participants in ABC international conference which will be held in Jeju at November 2-3, 2012. We hope other Asia countries can get a feasible idea for preparing their BioAPI CTS systems from our demonstration.
Alex Taylor: How did you benefit from using USB over Ethernet
Yoo-Sung Kim: By using your product, we can reduce dramatically the development time and we can focus only on developing BioAPI CTS Kernel. Since we have only one and half month to prepare the demonstration, efficient usage of is very important. So, your aggressive responses for our questions and requests are very impressive and helpful to us.