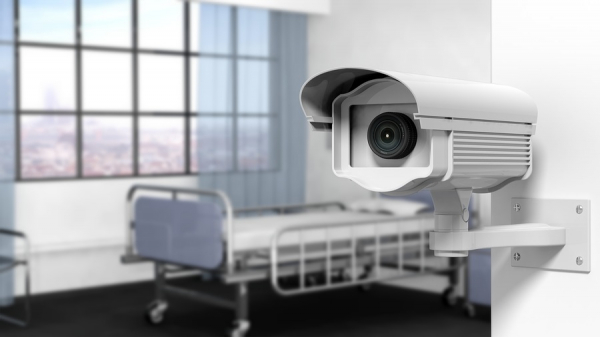 When hospital patients require 24/7 monitoring, this can create a huge burden on staffing, as this means that a nurse must be present in every patient's room in order to assure patient safety and well-being. With the pandemic of Covid-19 causing increased strain on hospital resources to begin with, trying to stretch hospital staffing any further can become a problem.
Clearly, regardless of the situation, a more cost-effective solution to patient monitoring that does not sacrifice the maximum standard of patient safety - is very much needed.
We here at Electronic Team, Inc. pride ourselves on discovering and providing innovative solutions to these real-world problems, and this situation is no different.
A safe and effective alternative to in-person patient monitoring is the implementation of a centralized remote video monitoring system. A central monitoring system would consist of cameras in hospital rooms, all of which could be monitored in real-time to help alleviate staffing impacts of one-on-one monitoring.
One highly-trained monitoring technician would then be capable of tracking and observing multiple patients at once just by installing a few video cameras in patients' rooms.
Unfortunately, the cost of implementing centralized monitoring of hospital patients, via patient video monitoring systems, can fluctuate widely due to the differences in capability and data fidelity. This is, of course, without taking into consideration the tens of thousands of dollars that are incurred due to ongoing system maintenance and licensing renewal.
Want A More Affordable Solution For Centralized Video Monitoring?
Fortunately, there is an affordable and reliable solution for those interested in a hospital monitoring system. That solution being: USB Network Gate.
USB Network Gate makes it possible to utilize pre existing USB web cameras and computers to create a beautifully functional centralized monitoring system.
At a fraction of the cost of traditional monitoring systems, USB Network Gate will help you set up live-feed video monitoring in hospital rooms easily.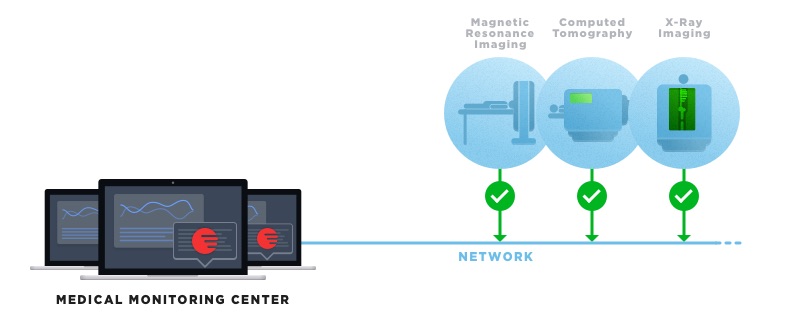 Using USB Network Gate to implement hospital patient video monitoring will allow hospitals to assign ONE trained monitoring tech to a single workstation. From this workstation, live feeds will be received continuously, allowing one person to care for multiple patients at once without sacrificing quality of care or straining staff.
Steps To Redirect Hospital Room Cameras To A Centralized Monitoring System:
Install USB Network Gate on the designated local computer(server), and the remote PC(client);


Run the app on the server (the designated local computer);


Share your USB webcam over the network;


Navigating in your hospital monitoring system, locate the "shared device" in the "software interface" window;


Click "Connect".


The USB webcam should now appear on your computer screen, showing live video feed from any hospital patient rooms with cameras installed.
The Key Benefits of Using
USB Network Gate:
You Can Share USB Webcams Over Ethernet (LAN or WAN)
USB Network Gate allows you to redirect the video feed from multiple USB cameras to a single workstation over a network.
You Don't Need Any Specific Hardware
There's no need to install expensive cameras in patients' rooms. A simple webcam will do the job perfectly fine, and USB Network Gate ensures that all streamed data is accessible, in real-time, from a single central monitoring system.
Web Cameras Can Be Accessed From Any Platform
USB Network Gate offers new and unique technology for connecting remote USB webcams to computers, regardless of the operating system that they run on. No matter whether you're using a Windows, MAC, Linux- or even an Android platform, you'll be given the ability to establish a centralized hospital monitoring system.
Connect To USB During RDP Sessions
USB Network Gate is an excellent solution for those who need to connect to a remote computer via the Remote Desktop Protocol client. USB Network Gate provides easy access to any local USB device during a remote desktop session. Starting from version 7.0, USB Network Gate supports the Citrix ICA protocols as well.
Exceptionally Secure Data Transfer
Our technology uses advanced traffic encryption for its network communications. You can rest assured that your data will travel safely and securely to its designated destination.
We hope this short insight into how USB Network Gate can help provide 24/7 patient monitoring without the immense strain on staffing has been helpful. This software was designed to be easy, effective and secure.