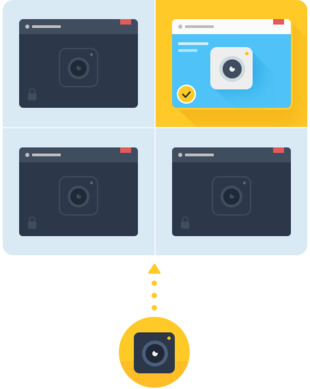 There will be occasions when you will need to connect a personal USB device onto a remotely-accessed computer. On such an occasion, you may be sharing this remote computer with other users, and wish to make sure your device is not available for use by anyone else operating on the machine.
This is especially true if your device contains sensitive information - such as a portable flash drive or an external hard-drive.
Where Does The Problem Arise?
Well, unfortunately, the Windows operating system does not have an efficient means of limiting access to a connected USB device. By default, the Windows OS enables any user the ability to access any and all USB devices that are connected to the remote machine. As mentioned above, if you are just one of the multiple users sharing a remote computer, this can be an issue.
Is There A Solution?
There is, indeed. The solution to effectively isolating a USB device on a shared remote computer is the software USB Network Gate. USB Network Gate was developed to allow users the option of specifying that a USB device could be isolated to (only accessed by) a certain user.

Download USB over Network Software
14-day free trial
In the next section, we will explain exactly how you can locate and isolate a USB device with USB Network Gate, and only provide access to it based on a specific User.
USB Network Gate provides a Per-User Isolation as an option to isolate a specific USB device from being accessed by other Windows accounts. Through the use of this software, you will be able to isolate/hide a connected USB device from all but one approved user.
In other words, the isolated USB device you specify will only be available to access under your user account on the remote computer.
How Do I Isolate A USB Device Using USB Network Gate?
In order to enable device isolation, follow the steps outlined below:
Begin by installing USB Network Gate on the local computer that your device will be physically connected to. The computer connected to the USB device will be referred to as the "USB Network Gate Server".


Run the USB Network Gate software.


Open the "Local USB Devices" tab.


Locate the device that you wish to isolate in the list of USB devices.


Click the "Share" option beside your USB devices name on the list.


Once the USB device has been shared on the USB Network Gate Server (the local computer that your USB device is physically connected to), install USB over Network app on the "Terminal Server". "Terminal Server" is a term used to describe "the remote computer you plan on accessing your device from". This computer/Terminal Server will be referred to as the "USB Network Client".

Note: Please be sure that the USB Network Gate Device Isolation Components have been properly installed on the "Client PC".

On the Remote Computer/Terminal Server(USB Network Gate Client), open the "Remote USB Devices" tab.


Locate the device you wish to be isolated from the "devices list".


Once you have located your device, open the drop-down menu, and select the "Connect For This User" option.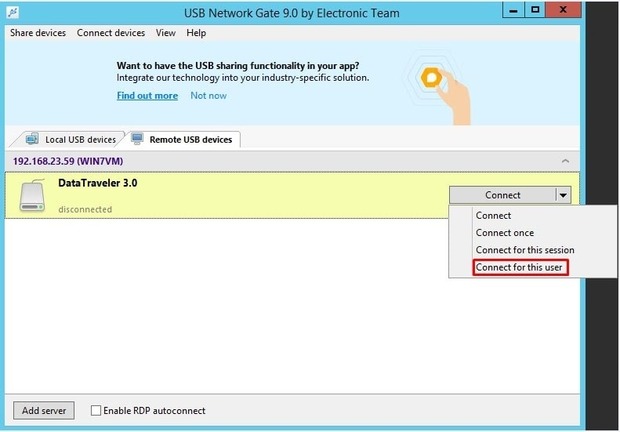 ***Another option is that, from the main menu, you can follow: Connect Devices > Connect For This User".***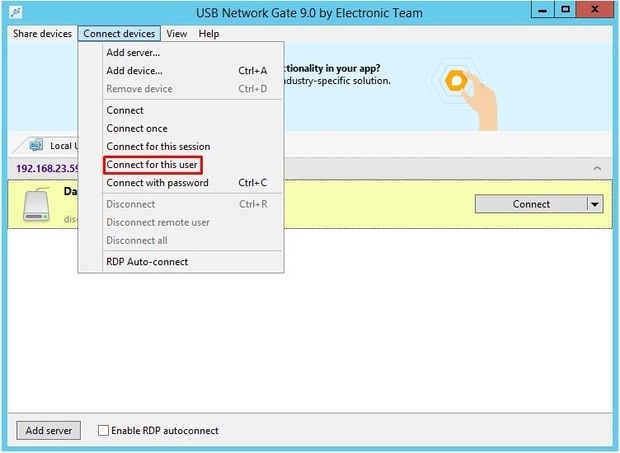 Once you have successfully connected the USB device, you will see that the device's status will indicate the name of the operator that has been granted access for use.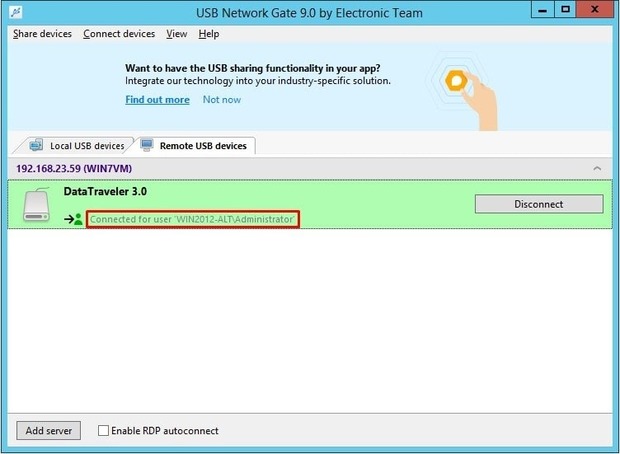 Note: You will need to have all of the USB Network Gate Device Isolation Components in order to use the "Connect For This Session" > "Connect For This User" function. If the system you are using does not have them installed, you will be prompted to install them before being able to complete the device isolation.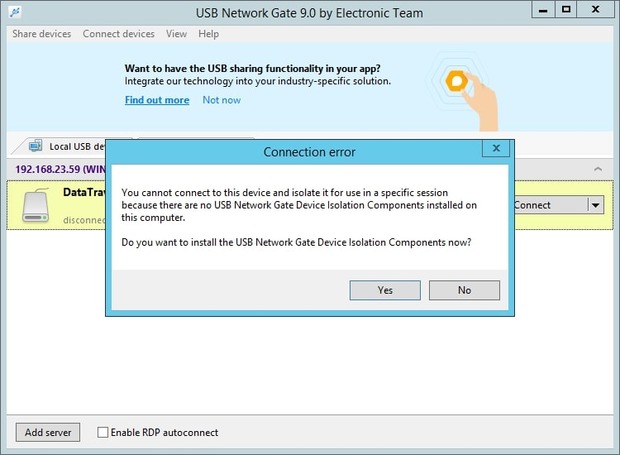 Note: Here is a brief outline of USB Devices supported by USB Network Gate's Device Isolation Feature. This is only a small selection meant to serve as an example and is not reflective of the complete list of supported devices.
USB Flash Drives
External Hard Drives
3D Mouse
Webcams
Printers
Scanners
Audio Card
USB Microphones
And that's it! Your USB device is safely and securely isolated to your user credentials only, regardless of how many other users access the computer via remote desktop sessions.
Pretty easy, right?
It's a good feeling knowing that you never have to worry about someone else accessing your personal USB devices, no matter how often the computer switches between multiple user accounts.