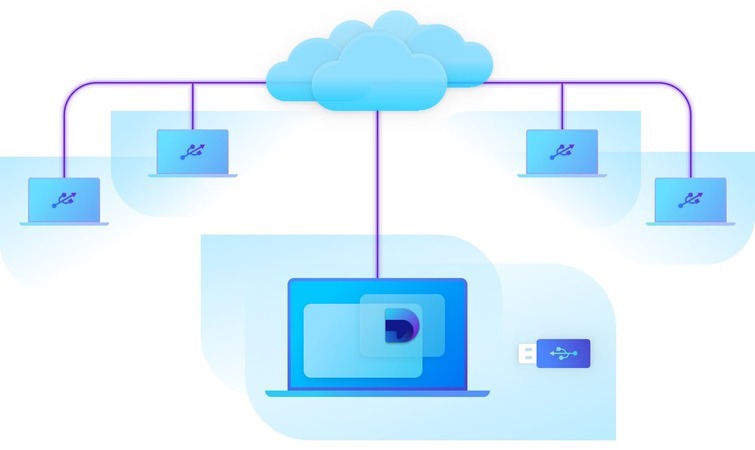 Why share USB security keys?
In many cases, USB dongles or security keys are designed for use by one individual on a single computer. While they afford a great deal of protection and security for your computing resources, in certain situations, dongles can impede a team from accessing equipment and performing their duties.
Access dongles remotely over the Network via Donglify
Fortunately, there is a method of dongle sharing that can be used over any network, including the Internet or a local WiFi implementation.
Donglify is a specialized software tool that enables you to share a dongle over a network. It accomplishes this feat by virtualizing the security key and enabling it to be used on a remote computer as if it were directly connected to the machine. The application creates a totally secure connection to remote USB security dongles. In this way, you can duplicate the functionality of the dongle and share it among multiple users.
Let's take a look at sharing a USB dongle on the Windows platform using USB Donglify.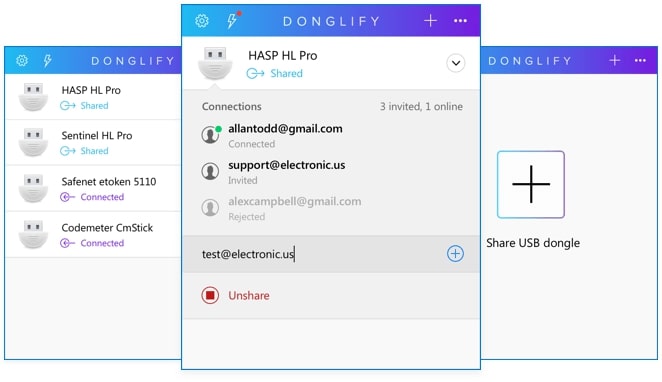 In order to clone a USB dongle, follow these steps:
Step 1:Before sharing the USB dongles, you need to create a Donglify account.
Step 2: The next step is download the dongle sharing software - Donglify.
Step 3: Install Donglify on the machine which has your USB security key physically plugged into (server). Do the same on the remote PC (client) that needs to access it via the network, Wi-Fi, or the Internet.
Step 4: Run Donglify and log in to your account first on the server PC, then on the client computer.
Step 5: Click the "+" icon on the server PC. This invokes the pop-up tub with a list of the shareable local USB dongles.
Step 6: Check the radio button in front of your dongle's name and click Share.
Step 7: Once the link is up, you'll see your USB security key in the system of the client machine, just like there was a clone USB dongle plugged directly into it. So there's no need to duplicate the device.
That's all you need to do and now you will see the dongle in the client computer's Device Manager. You use it as if it is physically attached to your machine.
Employing Donglify enables you to share any security dongle over the network.