What is USB server?
USB server is a software solution that lets you access various USB devices (mostly printers and scanners) plugged into this server among computers on the network without the need of plugging them in and out all the time when they are needed on any of those PCs.
Table of contents:
USB server usage
Usually the server device is connected to the network via standard port and is equipped with one or more USB ports. As a result, printers or scanners connected to such device become available for remote computers over the local network. USB servers usually have their own web interface for setup and management. They also may include special software for adjustment of configuration.
How to create USB server
Need to share USB devices over network, but don't want to plug them into your own computer? USB Network Gate is a professional, yet so easy-to-use solution for breaking a distance limit between USB device and its host! With USB Network Gate you can plug USB devices to any computer thus making this computer a USB server and use the connected devices from any remote PC on a local network even via RDP, Wi-Fi or Internet.
You can connect several USB devices to a local PC (e.g. USB hard drive, USB flash drive, USB dongle, USB printers/MFDs, USB home monitoring & control systems) and work with these devices from your laptop via Wi-Fi. No wires or additional hardware required!
Did you know?
You can turn any of the PCs on the network into USB server with the help of USB Network Gate with no additional hardware needed.
Steps:
For Windows OS:


Install USB Network Gate
on the computer that you are going to use as a USB network server. Plug USB devices that you are going to use on other computers into it.
Install USB Network Gate on all computers that will connect to the devices shared at USB network server. On Windows machines USB Network Gate for Windows has to be installed, and USB Network Gate for Linux/Mac has to be installed on Linux/Mac machines.
On client computers add
remote USB device
that you shared on USB server and then establish a connection with it in USB Network Gate.
For macOS
Creating a USB server on a Mac requires you to run USB Network Gate on the computer. Follow these steps to implement a USB server on a macOS machine after launching the app.
Click the Local pane in the upper part of the program's window.
A list of the USB devices currently connected to the computer is displayed in the Local Pane. Locate the device you want to share and select it.
Click the
Share
button.
Make any configuration changes necessary for the selected USB device in the displayed dialog box.
After you have finished configuring parameters in the USB server software for mac, click Share.


Your device is now available to be used by client computers from the network USB server.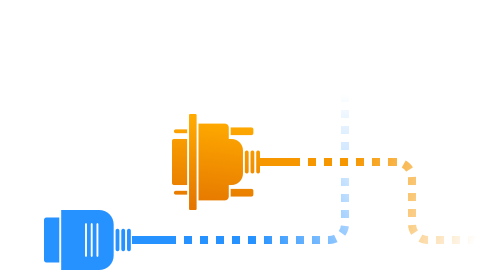 Related Articles
For Linux OS:
Below you can find step-by-step instructions on how to use the USB server on Linux OS. To create a Linux USB server, you have to launch USB Network Gate.
Switch to the Share local USB devices tab.
Choose the USB device you want to share. Then press
"Share"
You can change the TCP port to be used in the connection, or enable encryption, authorization or traffic compression.