Contents
What is RemoteFX?
As we know, Windows OS has a very useful feature called Remote Desktop. It works well with apps, but when it comes to watching a video or playing a video game, chances are you will get just a "slide show". Also, it's rather inconvenient that the PDP protocol does not allow redirecting a wide range of locally attached USB devices.
To solve these and many other problems, Calista Technologies has developed the RemoteFX technology.
RemoteFX is a set of protocols used for delivering Windows virtual desktops over LAN. This technology allows RDP USB redirection to guest OSes, which means you can get access to peripherals inserted into your host when working in your virtual machine.

Try USB over RDP app now
14-day free trial
RemoteFX USB Redirection
Starting from Windows Server 2012 and higher, RemoteFX offers extended capabilities for USB redirection over RDP. These include:
Dynamic forwarding of USB devices to a remote session. It is possible to redirect USB to a remote session not only at the start of such a session (at the moment the connection to the host is being established) but also when a session is already running.
USB forwarding to any virtual machine whether or not a dedicated GPU is assigned to it.
The possibility to independently redirect USB devices to the same VM from several clients. For example, you can forward several USB flash drives, which are physically connected to different clients, to one VM with a guest Windows 8 Enterprise, and each of these devices will be isolated and available only in the session during which it was shared.
RemoteFX USB Redirection vs dedicated USB sharing software
Probably the biggest difficulty you may face when trying to use RemoteFX is complex configuration it requires. What's more, you'll need to make sure that:
you run Windows Server 2012, 2012 R2, or 2016 on your RDS session host;


the Desktop Experience feature is

installed

;
you run Windows 7 SP1 (with Remote Desktop Connection 8.1), Windows 8.1 or Windows 10 on VDI desktop;


You run Windows Workspot client 2.x.x on your client system. (You should have RemoteFX-capable client (Remote Desktop Connection 8.1 or later)).
As you can see, there are quite a lot of requirements for enabling the RemoteFX USB redirection feature.
On the other hand, there's an alternative solution that provides remote desktop USB redirection functionality and makes it simple to access local USB devices from a virtual desktop.
USB Redirector by Electronic Team, Inc. is designed to forward devices over RDP in such a way that they appear in a remote system like they were physically attached to that machine. What's great is that you don't need to make any complex configuration. Just a couple of clicks is enough to connect to your local USB device from a remote PC.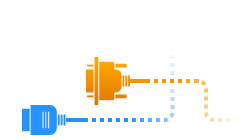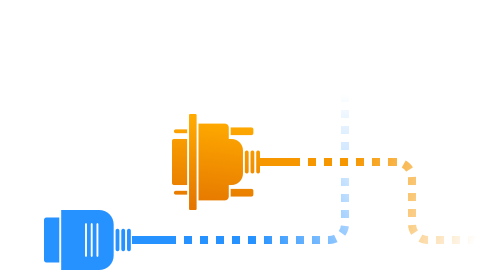 Related Articles
USB Redirection software: access USB devices over RDP
For now, the native methods of the RDP protocol allow redirecting only devices of certain types. Often, these are printers and USB flash drives. But if you want to forward USB peripherals without any limitations concerning device type, you can opt for USB Redirector like USB Network Gate (UNG).
The software will help you share a physical USB port with your virtual desktop. This means any device inserted into the shared port will become available for remote connection while you are working over RDP. If you unplug one peripheral and plug another one, the latter will be redirected to the remote desktop automatically.
Now, let's see how this dedicated software works:
First of all, you need to install the app on both computers that will take part in the connection:
The machine on which you're going to share the device over RDP. We'll call it UNG Server. The required peripheral is attached physically to this PC. On this computer, you are running the client for Microsoft RDP protocol.
The remote desktop from which you're going to access the shared device. We'll call it UNG Client. You are running the server component for Microsoft RDP protocol on that PC.
Once done, just follow these simple steps:
On the RDP client:
Install and start USB Network Gate.
In the "Local Devices" tab, find the required USB port/device and click "Share" next to it.
Connect to the remote desktop via Remote Desktop Connection.
On the RDP server:
Enter the password if required.
Launch the software.
Find the shared peripheral in the app's "Remote Devices" tab and click "Connect".

Try USB over RDP app now
14-day free trial
So, now when you connect to the Terminal Server over RDP and get access to the locally shared USB device using USB redirection software, the peripheral will appear in the server's Device Manager and all programs installed on that computer will work with it as though the device were connected to the server directly.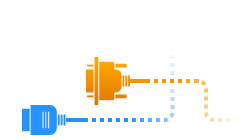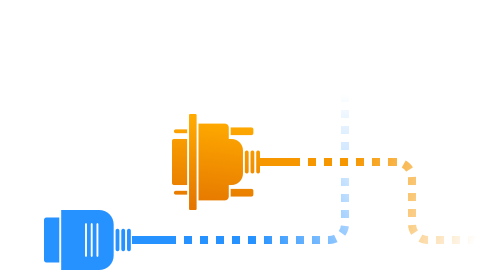 Related Articles
Connect to remote USB devices on Linux
The software edition for Linux supports RemoteFX USB Redirection [MS-RDPEUSB], which means you can forward shared USB devices from a server machine running Linux OS to a Windows client machine.
The client should be either Windows 8 (real or virtual machine) or Hyper-V running Windows 7 SP 1, with the RemoteFX GPU added, launched on Windows Server 2008 R2 SP 1 or Server 2012.
Here's the command you should execute:
xfreerdp-usb [shared-ports] xfreerdp-args
Where the arguments are:
shared-ports : comma-separated list of TCP ports for USB devices shared using USB Network Gate. If there are not specified ports, all shared USB devices will be redirected.


xfreerdp-args : arguments to pass to xfreerdp.
For example:
Redirect all shared USB devices:
xfreerdp-usb -u User -p Pass 192.168.0.123


Redirect USB devices shared on 1909 and 1910 TCP ports:
xfreerdp-usb 1909,1910 -u User -p Pass 192.168.0.123
If you get SSL_read: I/O error, you should add "--rfx" parameter without quotes prior to IP address.