Large terminal servers are often used in business to allow multiple users to run Remote Desktop sessions. USB redirection to the terminal server is needed if the users want to access USB devices from within their RDP sessions.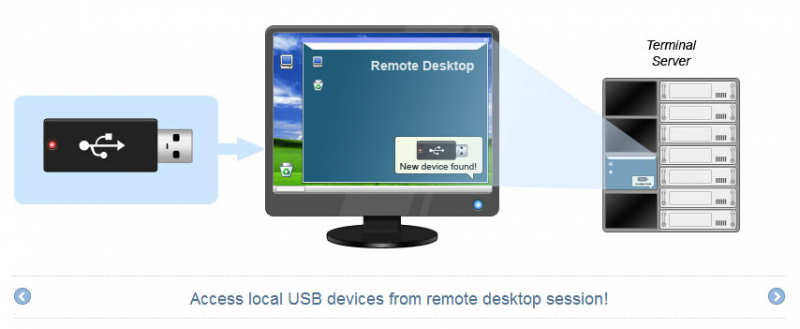 The problems of USB redirection to the Terminal Server:
Using USB with thin clients can pose difficulties that require USB redirection to be employed.
Remote desktop protocols only support a limited subset of USB peripheral devices. Using USB with a terminal server also may involve making extensive configuration changes on both sides of the communication.
It can seem impossible to connect to a USB zero client device from a remote session. The peripheral devices are only accessible from the local session when used with a thin client.
Solution:
Electronic Team, Inc. has designed a software solution to this problem.
Their USB Redirection software can fully emulate any type of USB connection by creating virtualized copies which can be redirected to any network-attached computer.

Try USB Redirection software now
14-day free trial
This terminal server thin client USB redirection solution supports the Citrix ICA and Remote Desktop Protocol. It enables users in remote sessions to access USB devices with the same functionality as if they were locally attached.
Read on to find out how to use USB devices across terminal server clients.