The popularity of the USB interface has made devices using this method of connectivity a common sight in the workplace. The plug-and-play nature of equipment using the USB interface makes them very convenient to use and easy to move between different computers. Sharing devices in this manner can give them added value to your organization.
Problem:
Sometimes, sharing the equipment physically is not enough. Swapping cables can get tiresome and involves moving devices to machines that may not have a free USB port available. Then decisions need to be made regarding which device is more important and should be connected at any given time. Cabling can get messy, and in many cases, you will be constrained by the size of the device when considering how to move it and share it.
You may want to share an important piece of equipment with users in other physical locations or remote offices.
Solution:
In these situations, a wireless USB cable would be a perfect solution. While this specific method may not be available, there are several ways that essentially make any USB device wireless. This can be done either with hardware or software that will make it appear as if you are using wireless USB devices. Here are the ways you can get this done and create a USB wireless connection to facilitate sharing your devices.
Try USB over Wi-Fi app now
14-day free trial
3 Ways to Turn a USB Device into a Wireless Device:
USB over WiFi software
If you need to make your USB devices wireless, these are your best options.
Eltima Software's USB Network Gate offers a software solution that enables you to create wireless USB devices by making them available to any network-attached machine. It allows you to share equipment with remote users located anywhere in the world. USB Network Gate eliminates the need for additional cabling or equipment and lets multiple users access a device simultaneously.
Make USB wireless with 2 steps:
Simply
install the application
on the computer that is connected to the USB device you want to share. From within the app's interface, share the device.
Then install the program on any physical or virtual machine that you want to access the shared USB device. Use the app to connect to the shared device and you can use it as if it were directly connected to your machine or remote session.


That is why the software is easy to use!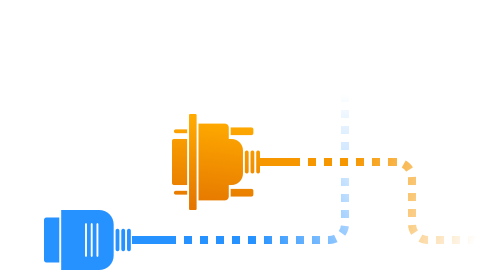 Related Articles
A wireless USB hub
You can also employ a hardware solution to make your USB devices wireless.
A wireless USB hub can take connected USB devices and convert their communication to wireless signals available to networked users. There are some drawbacks to this option when compared to USB Network Gate.
Using this solution, you are limited by the number of ports available on the USB hub, so sharing numerous devices may require multiple hubs. The USB hub needs to be in range of your wireless router and will require configuration before use. It also needs to be located near a power supply. These factors make a wireless hub less optimal than a software solution.
Try USB over Wi-Fi app now
14-day free trial
A USB to Bluetooth adapter
The last method we will look converts a USB device to Bluetooth signals.
A Bluetooth USB adapter plugs into a free USB port and allows a computer to communicate with other nearby and Bluetooth enables devices. This connection potentially allows the two computers to share a USB device. There may be distance limitations with this solution and it requires additional hardware and an open USB port.
Now you know how to make a USB device wireless using hardware or software. The software option offers more flexibility and removes any distance limitations by enabling USB communication to reach any network-connected user. While using any of these methods enables you to create wireless USB devices, USB Network Gate is the most effective and efficient means of sharing USB devices without any limitation on distance or additional hardware.
What is USB adapter?
Basically a USB adapter is what connects USB-port devices with non-USB-port devices. USB adapter usually has a USB cable on one side and non-USB cable at its other side. To overcome incompatibility issue you just have to plug the correct end into a correct port and the problem is solved.
USB to Serial adapters:
One of the most common non-USB ports is a serial port of course. Even some of the latest computers may have serial ports in order to connect some printers or scanners to them. But the problem may arise when you purchased a new computer with no serial port, but for example need to connect an older printer with serial port to it. In order to connect these two devices you will need a USB adapter.
Wireless USB adapters:
It may sound unusual, but sometimes wireless USB adapter is also used. E.g. when you need to connect wireless keyboard, mouse or headset to a computer you can use a USB dongle that connects to USB port of your machine and doesn't need to connect to anything at the other end. It is also a type of USB adapter that connects USB-port computer with a non-USB device.
Did you know?
Using serial-to-usb or parallel-to-usb adapter combined with USB Network Gate you can share non-
USB devices over network
.